Somewhere in the remote recesses of the American West, a team of highly specialized alchemists went to
work on a secret project that would forever change the course of history: I will call it the Manhattan Project. No, not THAT Manhattan Project! The only way to get bombed with the product of this Manhattan Project is to say, "Bartender, can I have another?" too many times.
The historic US Grant Hotel in San Diego recently teamed with High West Distillery in Utah to create a signature aged Manhattan cocktail. The drink, devised by the hotel's mixologist and sommelier Jeff Josenhands, is made of Utah Rye Whiskey, Alpine French Vermouth and premium old-fashioned bitters. It was married and aged in a cask for exactly 100 days and then bottled with custom labels and served at the US Grant Hotel as part of their 100th anniversary celebrations.
According to Josenhans, the product is more integrated and smooth than a newly-made Manhattan. Hotel officials wanted a cocktail that harkened back to the pre-prohibition days when the hotel was the toast of the young city. Patrons at the hotel can enjoy the new cocktail at dinner, in the lounge or even through room service to help wind down after a day of exploring the city or hitting the surf.
The US Grant Manhattan continues a pattern in mixology the past few years of thinking outside the box, or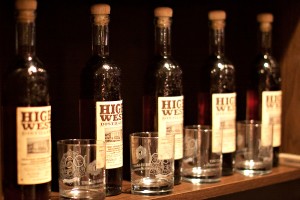 in this case, inside the barrel, to enhance the cocktail experience. I know I'm eager to try this concoction and may have to make the drive to San Diego at some point this summer.