JOHNNIE WALKER has launched a limited edition bottle design exclusive to travel retail – the JOHNNIE WALKER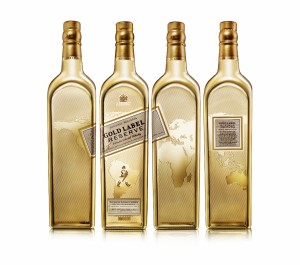 GOLD LABEL RESERVE EXCLUSIVE TRAVELLERS' EDITION.
Inspired by the spirit of travel and celebrating shoppers' own journeys across continents, this limited edition bottle design in a striking gold-colored, metallic coating has been embossed with a travel-inspired image of the world map.
This limited edition bottle design is aimed at the festive gift market in travel retail. The smooth, award-winning taste of JOHNNIE WALKER GOLD LABEL RESERVE super-premium Scotch Whisky transforms any celebratory moment into something extraordinary.
The striking metallic bottle coating serves to emphasize the super-premium, golden cues of the liquid: the gold-standard craft and 'golden whiskies' that went into creating this blend, and the special moments that this whisky is made to celebrate.
JOHNNIE WALKER GOLD LABEL RESERVE EXCLUSIVE TRAVELLERS' EDITION will be available for a limited time only from travel retail outlets worldwide where JOHNNIE WALKER GOLD LABEL RESERVE is already stocked. It will be available in time for key festive occasions such as Christmas, New Year's Day and Chinese New Year in February. The RRSP for 1ltr will be USD68, £48, €58 or AUD88.
Peter Fairbrother, Marketing Director of Diageo Global Travel and Middle East, said: "We have created this Limited Edition bottle design exclusively for our Travel Retail partners in the run up to the key festive gifting moments. JOHNNIE WALKER GOLD LABEL RESERVE EXCLUSIVE TRAVELLERS' EDITION serves to highlight our commitment to provide differentiated premium products for the travel retail channel and we are positive that the luxurious world map design captures the imagination of travelers seeking gifts that celebrate journeys."
JOHNNIE WALKER Master Blender, and creator of this celebration blend, Jim Beveridge suggests the perfect serve to show off the versatility of JOHNNIE WALKER GOLD LABEL RESERVE: "A whisky as special as this is designed to be shared, so I would suggest savoring JOHNNIE WALKER GOLD LABEL RESERVE in a tall glass with crushed ice and a slice of orange, to really bring out each layer of flavor. JOHNNIE WALKER GOLD LABEL RESERVE EXCLUSIVE TRAVELLERS' EDITION is perfect to toast the occasion and transform the moment into something spectacularly memorable."