For a guy who primarily writes about whisky which he enjoys drinking at night, writing about beer that he sampled during the day seems a bit out of sorts. In fact, it is. While I've written about beer before, I tend to enjoy it, rather than really think about the details of what I taste. Anyone who knows me also knows that I genuinely dislike drinking during the daytime – even the slightest sip makes me want to nap for the afternoon. So why in the world am I writing this piece?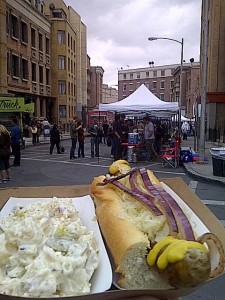 Good question and for that I have a good answer. My whisky and beer loving fellow drinks writer Angelo from Booze Dancing sent an opportunity my way to check out the Hollywood on Tap craft beer festival last weekend. Angelo couldn't make it due to living on the other side of America. The event was held at Paramount Studios here in Los Angeles, which is 10 minutes from where I live.
The event, which benefited The Blank Theatre, was held on the Streets of New York backlot set at the studios. You couldn't have asked for a better setting (unless it was lit up for nighttime – which would have suited my tasting preferences better). The old time narrow streets were jammed with craft beer booths, only broken up by the occasional food truck which emitted wonderful arrays of aromas. I went for Germany's Famous Bratwurst which has long been a food truck favorite of mine. I mean brats, sauerkraut, potato salad and beer? I'm from Wisconsin!
There were several dozen craft beer booths at the event, many featuring California craft breweries and microbrews. There were so many dozens of styles to choose from and so many pours to be had that I decided to stick with what has been one of my latest kicks: Imperial Stouts. A big, bold flavor for early in the day, but hey, if you're going to play, might as well go all in.
The two winners for the Imperial Stouts were from Haven Gastropub in Pasadena and JT Schmid's in Anaheim. Each offered unique takes on the style, with the Haven clocking in at 12.0 percent alcohol and the JT Schmid's at 8.0 percent. Haven had a touch of rhubarb on the nose and some tart aromas, was very chewy on the palate with lingering chocolate on the back end. Schmid's, which spent some time in French oak casks from a California winery, had a huge wine and cream nose, with the waft of toasted chestnuts. The palate was dark cacao and chewy wood. It was definitely my favorite Imperial Stout and maybe the overall favorite at the event.
It wasn't all Imperials I sampled, as I had that bratwurst to contend with, and it needed a lighter mouthfeel. I still went big with taste, as I paired it with an IPA from Tap It Brewing in San Louis Obispo. SLO yo! That was an IPA people were buzzing about and for good reason. It had all the best characteristics of an IPA in spades. I won't dig down into the details, as my palate was likely tainted by sauerkraut. However, I could tell it was very, very good.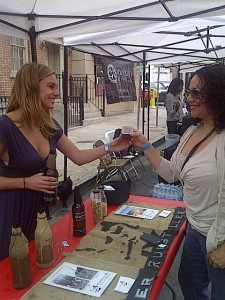 The only beer to challenge the Schmid's as my favorite beer was a rather surprising choice for me to even sample in the first place. Ruhstaller, from Sacramento, had a late harvest wet hops beer called Blue Heron Hop Yard. To the best of my knowledge I've not had a wet hops beer before this one, which was made using hops sourced locally by the brewery. The Blue Heron had almost winey characteristics in its nose and taste. The beer was light on the nose, but earthy. On the palate, sweetness was balanced by a smooth hoppy flavor. This is a seasonal release, and I'm going to do my best to hunt down a few bottles before the season ends.
All in all, this was an excellent event and drew a pretty good, young crowd. I hope some of these craft breweries see bumps in sales after events like this because California needs to keep great beer choices like these alive and well. Give a boy a break from whisky once in a while.
---