People often ask me how did Whisky Guy Rob became involved with writing about whisky and leading tastings. I was born with a Gaelic liver, so that helped. But, truly appreciating whisky takes more than a physical aptitude.
When I was a newspaper editor in Los Angeles I received invites to all kinds of events from the Academy Awards to parties at the Playboy Mansion. One day, I received an invite for a whisky expo in San Francisco. Though I knew nothing about whisky, the event and location sounded intriguing. I soon discovered what a great choice I'd made.
During the press preview day I was able to have a personal whisky lesson from Bowmore's former Global Sales director. An hour later, he had me hooked on the magical world of whisky. Over the next two days, I sampled some 60 whiskies (tasting, not gulping) and realized I had an aptitude for picking up the nuances of aroma and taste. I then went down some personal and professional paths I would have otherwise never imagined.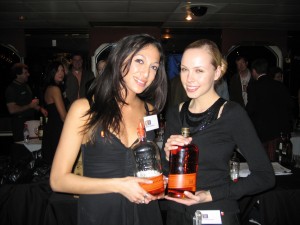 At the time, there were only a handful of big whisky events like this in the world. Now, there seems to be one or more happening every weekend. These whisky events give distillers the chance to talk about their craft and expose their elixirs to new people. The events also allow new whisky drinkers and connoisseurs alike to sample dozens of whiskies that would otherwise cost hundreds, if not thousands of dollars if they paid for them at a good whisky bar.
This fall, there are quite a few such events that are popping up all over the U.S., including a series of tastings sponsored by the Scotch Malt Whisky Society of America (SMWSA), Whisky Magazine and others. Each event feature similar set-ups of distillery tables, speaker presentations and grand dinner buffets. Two of the events to be held in Los Angeles offer their own unique twist on the standard whisky tasting excursion.
Whisky Live LA rolls into town on October 21 and will feature more than 120 whiskies. Sponsored by Whisky Magazine, the event really is about the sum of the whisky lifestyle more than the individual whisky parts. The event employs a voucher system that starts with a limited number of drink tickets (more are available for $2 each). Organizers want attendees to focus on the whiskies being poured, not on how empty their dram glass is. People may end up only sampling a handful of whiskies by the evening's end, but they'll better be able to interact with distillery representatives to learn more about the spirit they're enjoying. The system also mitigates the tendency of people to rush to vendors and beg for a taste of the oldest or most expensive whisky, simply because it is the oldest or most expensive. In other words, if you want to end your evening with a nice 25-year-old Scotch, there will still be some left to pour.
In addition, Whisky Live LA will feature a "Seven Grand" lounge – which will be a mini-version of the venerable downtown Los Angeles whisky bar. Live jazz music and an "Iron Bartender" cocktail contest also add to the whisky lifestyle experience.

Less than a month later, on November 11, the SMWSA will hold their Extravaganza in Santa Monica. The Extravaganza is one of eight being put on in the next two months around the country. The SMWSA is a private organization that offers members the opportunity to purchase single bottlings of distillery expressions not found elsewhere (for which they've been recognized by Whisky Magazine with an Independent Bottling Award). The expressions avoid naming the distillery from where the whisky comes, though with 120 different distilleries being bottled, they seem to cover all the bases. While there will be more than 100 expressions available from known distilleries at the Extravaganza, I'm especially intrigued by having the chance to sample some of the rare Society bottlings they'll be sharing at the event. You simply cannot find these whiskies elsewhere. The Society event will also have an atmosphere of elegance at their event, through choice of location (Loews at the Beach) and dress code.
Both Whisky Live and Scotch Extravaganza are offering Whisky Guy Rob readers discounts on tickets.  For Whisky Live LA the discount code is whiskyguy and for the Extravaganza the discount code is WGR2011. I'll be tweeting details of specific events as they near. Hopefully, one of them will roll into a town near you and you'll be able to expand your knowledge of and taste for whisky and whiskey.
---