There's a certain kind of sadness at the end of every story. Even stories with the happiest of endings –   the Dark Lord's impossible defeat, the princess stirred from an unnaturally deep slumber by the lips of her true love, or the pig winning the sheepdog competition – leave one feeling a bit melancholy when the final page is turned. We've spent time, invested emotion and in our own way joined the journey of these stories. Sequels may follow, new stories with the same characters can be told, but nothing will ever return us to that first wild ride.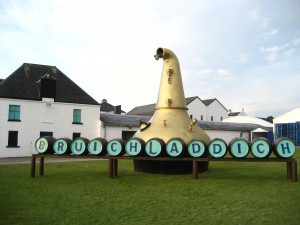 A whisky story is coming to a close with the sale of the independent tiger of a distillery known as Bruichladdich. The distillery will be fine. In fact, according to Mark Gillespie's latest WhiskyCast, there will be more Bruichladdich to go around thanks to increased production expected by new owner, the French spirits group, Remy Cointreau.
With this sale, Bruichladdich's visionary investors win. The distillery's long-devoted employees win. Whisky drinkers win. This is truly a happy ending from many standpoints.
I still have a pang of wistfulness.
Some whisky commentators worry about the impact a large owner will have on a distillery known for its aggressively independent approach to making and marketing its spirit. Will they fall into step with industry associations? Will the flavor profiles be affected? Will the distillery's quirky bottlings continue? (How many distilleries can whip out a bottling in a matter of days that takes a tongue-in-cheek approach to an orphaned yellow submarine?)
Good questions, but those concerns don't really matter to me. Fifteen years ago, whisky enthusiasts would have practically sold their souls if the devil himself had offered to reopen the then-shuttered distillery – even if the angels' share would have headed the other direction.
Instead, a group of Islay industry mainstays and UK whisky aficionados took a hell of a chance on opening a distillery at a time when the sales growth of single malts was not yet on its meteoric rise. Their decision was the start of a new story for Bruichladdich. The chapters that followed the re-launch in 2000 are filled with risks and rewards, pitfalls and praise, ACE'd malts and earned medals. And, for a short time in 2009, a whisky writer from Los Angeles who lent his American accent to a few passages of the saga.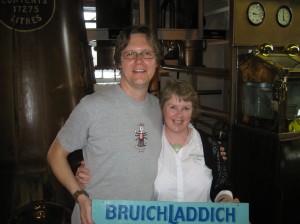 My personal Bruichladdich tale will be published later this year and in its own way will be a sidebar to the main story. The experience was only made possible due to the total independence of Bruichladdich. I can't imagine a corporate-run distillery inviting an untrained person into their workforce with the sole safety advice being, "Don't get your hand lodged between the wall and a cask you're rolling. You'll likely lose a few fingers."
No; my experience was the result of a particular moment in time of the Bruichladdich story – a time when the unabashed audacity of running an independent distillery hurtled whisky, workers and one writer down relentless rapids of innovation. Perhaps Remy Cointreau will bring new and unexpected actions that will excite and delight (and maybe raised ceilings to the Port Charlotte warehouses? My head is still dented from those low beams). But, that will be their story. The next book in the Bruichladdich series. The story written by Mark Reynier, Jim McEwan, Duncan McGillivray and others is now complete, though many of these same characters will return for the next tale.
The beauty of a story comes in those first steps out the door when a person decides to participate in an adventure without having a clue to the outcome or an idea of how they will survive. In the case of the people behind the Bruichladdich revival, it was more of a leap than a step, a leap that brought us Jim McEwan's enthusiasm, Mary McGregor's smile, Budgie's banter and Mark's moxie. It was a decision that gave us amazing whisky and showed off the talents of dozens of native Ileachs.
And so, with a mixture of mirth and melancholy, I raise a toast to the conclusion of one Bruichladdich story and to the beginning of a new one. Thank you for letting all of us take these journeys with you.
The end.
---