Last night, I was watching "Six Days to Air: The Making of South Park" which is a great behind-the-scenes look at the crude cartoon classic. In one scene the camera pans around the office of co-creator Trey Parker and sitting on a wall shelf, right along some of his most treasured belongings, is a whisky tin of Murray McDavid 1992 Macallan (I'm pretty sure that was the distillery and year on the tin — the shot was a bit blurred). Who knows if the tin still held a bottle of Macallan, but I'd say most likely not, as it was placed among a number of random things like South Park toys and Legos. My best guess is that it held additional Legos. Or Lincoln Logs. Or LSD laced sugar cubes (if you watched the show you'll understand that reference).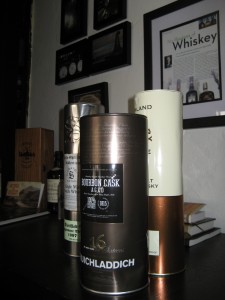 Whisky is transported all around the world in these tins, keeping bottles somewhat safe and sound while crammed in suitcases or car trunks. But what becomes of these tins once the whisky is removed? I've seen people toss them away. I know people who keep them as mementos of whiskies that hold fond memories. Personally, I think they're best used as intended: to package items.
Airlines have made luggage space a premium in recent years, charging for even the most basic of checked bags. Rather than help an airline make money, I help myself save space by stuffing clothes and any other items I can fit into my whisky tins. You'd be amazed by how tightly things pack into the tins and, unlike folded or rolled clothes that may expand when placed freely in luggage, the tins keep them compacted. I'd guess I can take 15-20 percent more luggage in my carry-on baggage using whisky tins this way than without using them.
Security personnel are, shall we say, befuddled by the use. I'd say half the time I travel they pull me aside to take a look inside my bag. However, even that slight delay more than makes up for the cost of checking a bag before take off and then waiting 20 minutes at baggage claim upon arrival.
And just think: if you come across a dusty bottle of long-forgotten whisky on some random store shelf at your destination, you already have a way to safely transport it home in your  checked baggage once you remove the clothing from your tin. The only drawback is you may have to end up wearing six pairs of socks on that return flight.
---