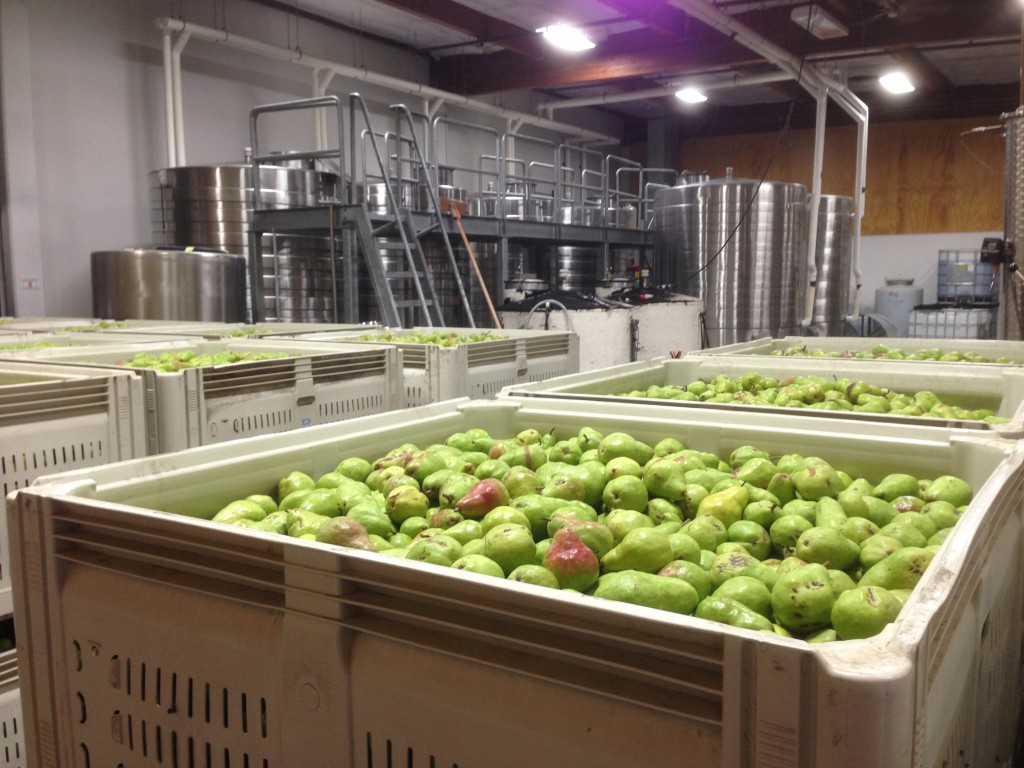 IMG_1565
Pears awaiting their turn to be made into brandy.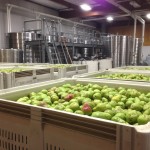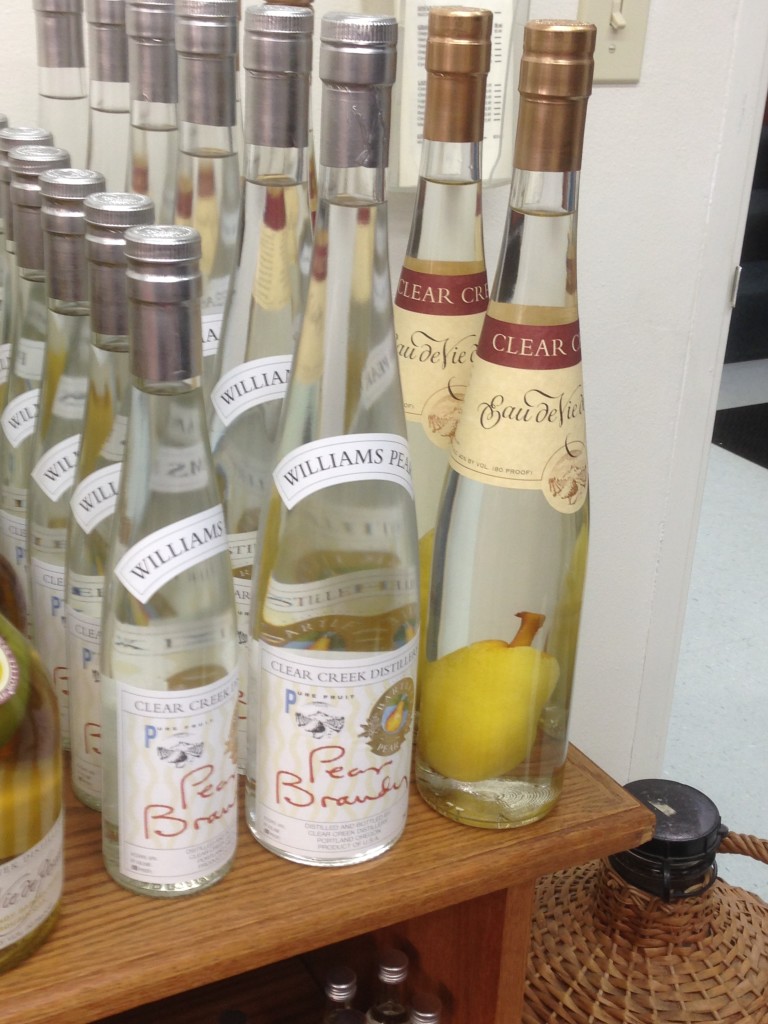 IMG_1562
Clear Creek's award-winning pear brandy is a bigger production than McCarthy's single malt whiskey..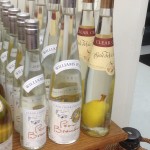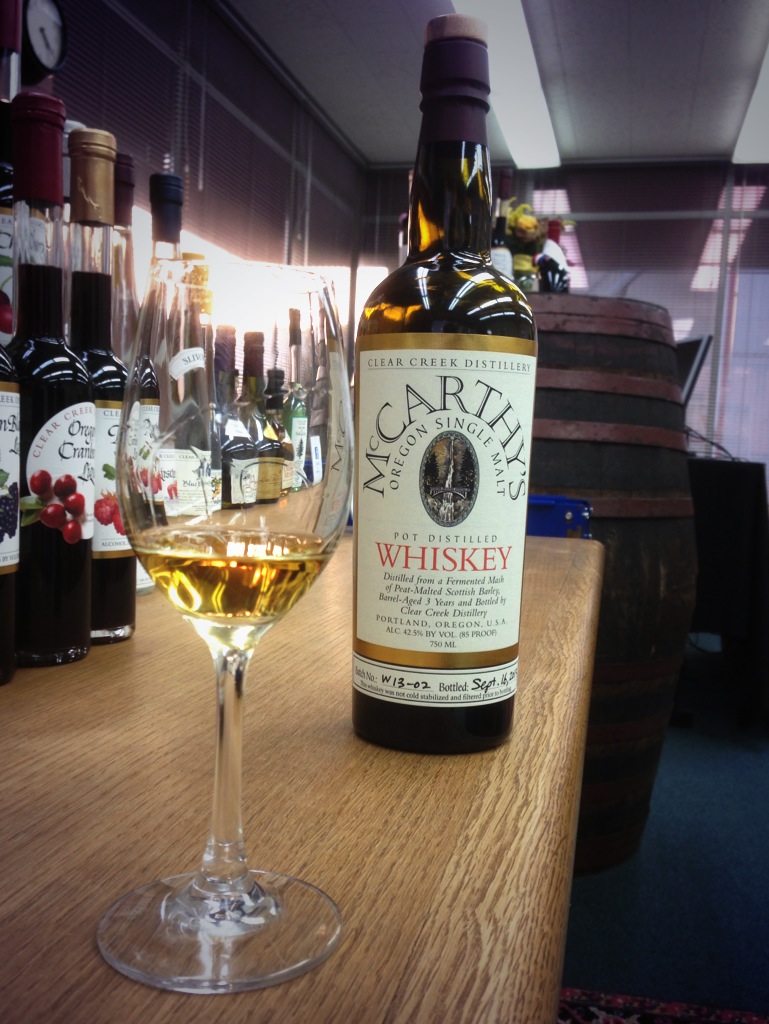 IMG_1572
The unexpectedly peated McCarthy's single malt whiskey.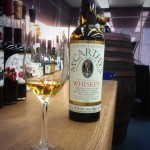 Last week, I wrote of the unexpected twists in whisky and writing, and life. This week, I'm going to explore one of those twists: a distillery I "discovered" in Portland on my Pacific Northwest tour last winter. My trip had originally been intended to see friends and explore new cities like Portland and Seattle. The friends, some of whom I hadn't seen in more than ten years, were enthusiastic, especially since I promised to bring whisky to share in exchange for spare bedrooms.
Days before my alternative travel departure (a bus and train trek, inspired by the Alternative Travel Project) I had a thought: if I was going to empty my backpack of whisky during my two-week trip up the coast, what could I do to replenish it? The answer: visit a few of the ever-multiplying craft distilleries in Portland and Seattle. I knew very little about the distilleries or what possessed people in the land of trailblazers and seahawks to make whiskey. And, aside from the questions of why they pursued the craft, I wondered if the whiskey quality would be any good.
I reached out to the master of malt, the wizard of whiskey, the barrister of bourbon, LA's own whiskey blogger Sku. I had recently attended a bourbon tasting at his house, which reconfirmed to me that he was an endless wealth of knowledge when it came to American whiskies. Sku suggested several distilleries to visit during my travels. The first on Sku's list was Clear Creek.
Clear Creek Distillery was founded by Steve McCarthy in 1985, well ahead of the 21st American craft whiskey revival. Not that he was ahead of his time specifically because of his love of whiskey – that came in the 1990s. Steve originally started the distillery to solve the problem of what to do with the portion of his family's annual pear harvest that was rejected by produce markets due to cosmetic reasons. Good fruit, but lacking that pure pear teardrop look, and perhaps with a few brown spots. Edible and delicious, but not a grocery shopper's delight. Steve decided to take the lead from Europeans who use some of their fruit harvests to make liqueurs. And so Clear Creek was born, not out of barley but out of brandy.
Steve agreed to take me on a tour of the distillery with little advance notice. We'd exchanged a couple of emails and he was able to set aside thirty minutes for me at the end of a long work day (for him – I was on blessed vacation). After walking around Portland all day with a brisk chill in the air, I was more than ready for a warming dram at our 4:00 meeting.
The distillery is in a semi-industrial area bordered by pleasant residential neighborhoods. Inside, I walked through a cozy tasting room where Steve met me. He took me to the back part of the building where the distilling action takes place, and Holstein pot stills churn out brandies made of apple, blueberry and the aforementioned pear, to name a few. The aroma of pear was almost overwhelming, as bins of the fresh fruit lined the distillery floor. The bins of pears belied Steve's other passion: whiskey. And not just any whiskey, but an Islay-inspired malt with a peatiness that rivals Lagavulin – one of his favorite Scotches.
Back in the tasting room, Steve led me through samples of several sweet brandies and other liqueurs before we made our way to the whiskey that had intrigued me about Clear Creek in the first place. His McCarthy's single malt whiskey was at the vanguard of the American single malt revival of the early 2000s, boosted by his bold foray into using peated malted barley brought in from Scotland. The whiskey is so popular and hard to find that Steve had to ask his marketing director if there was an available bottle to pour for me. Fortunately, there was.
McCarthy's single malt whiskey is distilled in one pass, aged for three years in new Oregon oak, and bottled at 42.5%. I found the malt to have the bold peatiness that was promised, though at only three years old, the smoke rides a thin spirit compared to the Islays I love. Fresh oak comes through in a forward way, balanced by wisps of spice. The finish is quick, with an oddly lingering eraser element poking through the smoky remnants.
I must admit that my palate may have been tainted by the half dozen brandies I tasted prior to the whiskey. The brandies were excellent, but put my palate on a sweet taste overload by the time I'd reached the whiskey. I've heard several interesting things about McCarthy's, including a pervasive honey note on the nose and palate. For me, the honey wasn't there on the palate though I caught essences of honey on the nose.
I enjoyed the whiskey for sure, but much of my enjoyment came from drinking it with the man who made it. A peated whiskey in a Portland pear distillery? How is that even possible? But one man's dream created a twist in the American distillery world that reverberated in a positive far beyond Portland. Steve laid down a path that opened roads for other craft distillers to take risks and try the unexpected as they worked, and continue to work, their way into the American whiskey landscape. I wasn't drinking a peated elixir; I was drinking passion in a bottle.
Steve bid me a farewell and returned to his office to shut things down for the evening. I headed back out into the Portland chill, warmed by the whiskey. I had an hour to kill before I was supposed to meet friends for dinner. And that's where fate intervened in the most unexpected way. No bull.
Next week: Bull Run Distillery
---