As I stated in my recent post, Lost in Translation, I'm going to be doing more regular reviews of whiskies. I promise not to ramble on and on about what I'm tasting by evoking esoteric imagery. I'll save that for my regular blog. I'm more of "get right to the impressions/descriptions" kind of guy. That being said, I must offer a lengthy prelude to my review of four recent Scotch Malt Whisky Society of America offerings.
I've not been shy to note, tweet, whine, whimper and bemoan the horrible allergy attack I've been under for the past 10 days. The siege of my sinuses has left me unable to smell much of anything – not to mention has given me an almost constant headache, lethargy, etc. Nosing whisky is mighty hard when one's nose knows no smell. I've taken formal nosing/smell tests and rank in the top 10 percentile of "noses" when it comes to identifying aromas. My snout is a shell of itself these days.
A thought hit me a couple of days ago, however, that inspired me to stop sniveling about my sniffles and dive into my Glencairn glasses. I realized that at every tasting I've conducted or attended, there's always at least one person in the audience who has no idea what everyone is talking about when we start letting go with our flowery descriptions of whiskies. We wax about the wafting aromas of passion-fruit tinged sticky toffee pudding, and they think, "I kind of smell something sweet?" We boldly declare, "Tar! Charcoal! Socks dried out over a campfire!" They think, "Maybe smoke?"
In other words, not every nose is going to know what we are describing when we go into exuberant explanations about whiskies. But, those people still appreciate a good dram, despite feeling underappreciated for the quality of their nasal cavities. People like that need a symbol. Someone they can look up to. A hero for olfactory outsiders near and far. And so, just as Batman inspired the lost souls of Gotham, I have chosen to nose and review whiskies under considerable nasal duress. And while I don't have an exact Catwoman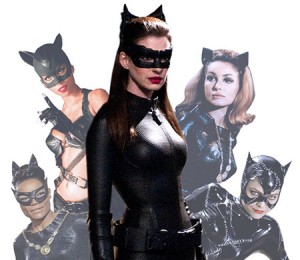 counterpart (which is good considering how allergic I am to cats – though I could make an exception for Anne Hathaway) I do indeed have a foil for my pharynx.
My friend Sarah agreed to sample the four SMWSA whiskies with me. I gave Sarah her first tasting lesson two years ago and immediately noticed her excellent ability to pick up nuances in a malt. Not only was she able to identify interesting aromas, but her descriptions closely matched what I was picking up in the dram. I could think of no one better to lend me an assist in my disabled state. We made our notes separately for each dram and compared after each tasting, so we did not unduly influence each other. I was relieved to find out that our descriptions were generally not too far off, so my nose isn't completely out of whack (though I struggled to pick up nutty and chocolate notes). I also find it interesting how we closely matched each other, but didn't necessarily pick up what the SMSWA tasting notes described (which we didn't read until after we tasted). That's the beauty of tasting – there will be different opinions that will help give a broader overview of the complexities of the sampled malts.
Speaking of which, let's finally get to those. We did not score these whiskies, but will offer detailed notes on what we notes picked up and our general impression of the given malts. Here we go:
Cask No. 7.69 – 8 Yrs. Old; 61.6% alcohol
Color: Bright yellow
Nose
Rob:  Candied Christmas cake, Cajun spices, fresh cardboard; With water: Floral bouquet, spring laundry
Sarah: Play Doh, pear, yeast, swimming pool; With water: Vanilla, cinnamon apples, banana
Palate
Rob: Baked apple tart served on a leather plate, buttery cream; With water: Cotton candy, yeast, chili rubbed satay with mint sauce
Sarah: French apple pie, light caramel, banana; With water: Sharp lemon, fruit basket (basket included!) hints of grass, wicker furniture, peppercorn
Finish
Rob: Cooling, icy-hot; With water: Just like Mo Farrah going for the gold – a long distance runner with a great sprint at the end
Sarah: Short, but some lingering caramel glow at the back of the mouth
Overall impressions
This definitely required some water to take down the peppery aspects in favor of the softer flavors. This is a good dram for when you're not sure what you're in the mood for. Hits a lot of notes.
Cask No. 30.68 – 10 Yrs. Old; 60.6% alcohol
Color: Peach
Nose
Rob:  Medicinal smoke, apple cobbler, honey, heather; With water: Fresh apple butter croissant, lavender, thistle weed
Sarah: Yeast, faint grass/yard trimmings, raisins, plums, orange zest, faint peat; With water: Lighter and cleaner, pears and spices, hard candy
Palate
Rob: Oily, orange with cloves, burning plastic; With water: Cardamom, ginger cookie, chewy forest wood, moss
Sarah: Butterscotch, orange zest, lemon cookies – tastes like you should be standing in your grandmother's kitchen while she bakes with antiquated spices; With water: Gingerbread, candied ginger
Finish
Rob: Long, chewy orange candy; With water: Lingers more
Sarah: Very long, warmly full bodied, lingering
Overall impressions
We read the SMWSA tasting notes after comparing ours and had to double check to make sure we were drinking the right sample bottle. For the most part, our impressions were similar to each other, but quite different from the official tasting notes. That being said, this dram seemed to shift from interesting to more interesting to even more interesting with each additional sip. It was our favorite of the quartet and was perfectly enjoyable without water.
Cask No. 24.122 – 16 Yrs. Old; 53.0% alcohol
Color: Pale gold
Nose
Rob:  Sweet, clean, pears in syrup, faint aroma of campfire on clothes; day old cinnamon rolls, hay; With water: Yeast, Sweetart package, cherry, lemon, pine needles
Sarah: Acrid, fire in a forest, full-bodied, moist undergrowth, peeling paint, cinnamon, vanilla, baking; With water: Grassy, pine cones
Palate
Rob: Charcoal – where did that come from? Pine; salt  With water: Gazpacho, pine cone sap, ash, celery, sweet spices
Sarah: Orange, cloves, cinnamon muffins; With water: Earthy, pine cone and nuts, burned sugar, fills the mouth like a loaf of bread
Finish
Rob: Where are you going? You just got here!
Sarah: Short and sweet. Fills the mouth and dissipates quickly
Overall impressions
This is a really lovely dram. Nice balance between woody notes, spices, sweetness, and fruits. It seems to be just moving into its own as the wood and spirit reach equilibrium.
Cask No. 3.182 – 21 Yrs. Old; 46.4% alcohol
Color: Cloudy gold
Nose
Rob:  Peat smoke, medicinal cabinet, shortbread, tangerine, faint vegetation; With water: Pineapple cake, wet cut grass, violets
Sarah: Sharp, smoky peat with soft citrus, floral undertones, warm hearth; With water: Composted grass, orange peels
Palate
Rob: Oily, hot, orange zest, charred wood, tobacco tar, grapefruit; With water: Hot spicy peat, candied walnuts
Sarah: grapefruit over deep peat; With water: softer, dandelions in the field after a rain, floral bouquet
Finish
Rob: Fleeting, but pleasant With water: waves of tangerines
Sarah: Medium, sharp peaty. High-pitched.
Overall impressions
A tough nut to crack was this one. I guessed (correctly) that it was a Bowmore, which I always struggle with getting a finger (or a nose) on with great authority. There's a lot here that is quite nice, but nothing that jumped out and hugged me like several other Islay malts do, or kissed me like Bruichladdich does. This is a bottle that requires you to settle into the armchair in front of the fireplace late at night and push on to dawn to fully unlock all its secrets. And that is not a bad thing at all.
These offerings are available to SMWSA members. Information is available on their website.
---