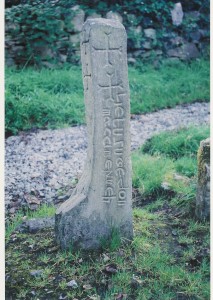 As one of my favorite days of the year approaches, I'd like to turn an eye to some unheralded whiskey options for celebrating St. Patrick's Day. Each are a bit off the beaten track that revelers are used to and most likely won't be found in bars and pubs that will freely pour Jameson and Bushmills all day and night. However, I think in their own way they offer a taste of Ireland that you can slowly savor rather than chugging until it makes you green — which seems to be what a lot of young Americans think is the purpose of St. Patrick's Day.
The first is, in fact, from Bushmills. The whiskey is their latest to hit the American market: Bushmills Irish Honey. I am unsure as to why the company wanted to produce this whiskey, but my guess is that at 35% alcohol and infused with honey the aim is to attract drinkers who prefer the sweet drinks that vodka and fruit juice provides. If you'd like to try the tipple neat, you'll be surprised at a kind of muskiness and malt aroma that hits the nose. You also definitely pick up the fresh apples that are typical of Bushmills spirit.
The palate is less surprising and more perplexing. Honey, honey, honey bouncing its way around fruit (apples, pears and cherries) and cereal notes. The mouth feel is coating and thin at the same time with the ever-present honey. Kind of like a thin syrup, kind of like watered down honey. Treacle to the core.
Busmills Irish Honey is the drink to serve to someone who wants to experience a touch of the Irish, but is not ready to dive into a full-bodied whiskey. Personally, I wouldn't drink it neat, but I think it could work nicely in some cocktails, perhaps mixed with ginger ale.
My surprising second choice is indeed a full-bodied Irish whiskey and is not available outside of the beloved American grocery store chain Trader Joe's. In general, Trader Joe's-named whiskies are very affordable but very hit and miss in quality, with miss being more prevalent. In the case of their four-year-old Irish single malt it's a hit all the way. And at $20 you won't miss the money you spend on this delightful dram.
The nose is subtly complex for an Irish whiskey: slight aroma of burning leaves, pineapple cake, apples and cereals. Really, a delightful aroma. The palate is chewy as hints of malt, candied fruit, leather and charcoal make their way around the tongue. A wonderful combination of flavors. The finish is long and warming like drinking a bit of hot apple cider in front of a peat fire. Having spent time at Cooley Distillery sampling all their different bottlings under various marketing names, I'd have to guess this is from their casks. The fruitiness and the slight peat give it away.
Plenty of Guinness and Jameson will flow tomorrow, but if you'd like to take a mental and palatal break from the cacophony of loud pub-goers and bands covering "Whiskey in the Jar" for the 20th time that night, ease back with one of the lesser known whiskies I've mentioned. Sláinte!
---