One of my favorite Clint Eastwood Westerns is "The Outlaw Josey Wales."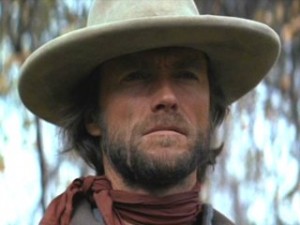 Clint plays an outcast who, despite his best intentions to journey through life alone, keeps collecting an odd assortment of fellow travelers. The growing crew eventually arrives at a dusty, desolate town in Texas, and Josey steps into the local saloon for a drink. He asks for a whiskey, eliciting laughter from the four patrons in the establishment. Josey asks why they find the question so amusing.
"First the silver run out, then the people run out, then the whiskey run out…" a man explains lamentably.
Josey walks out and silently returns with two cases of whiskey he'd recently "liberated" from some murderous bandits. The bar erupts with joy.
The scene is a classic example of the mythology of the American west: the rugged individual does things his way and in the process helps the masses.
Jump ahead from the 19th Century to the 21st Century and that same pioneer spirit can be found in an industrial section of Denver, Colorado. Just off the freeway is an unassuming building that would be ignored by most passersby if it weren't for the signage sprawled across the exterior: Stranahan's Whiskey Distillery.
Stranahan's is less than a decade old, yet it is a member of the old guard when it comes to U.S. craft whiskey distilleries. The distillery may be the first ever (legal) distillery in Colorado as far as anyone can tell, and several others have followed in its wake. The name comes from original co-owner George Stranahan (who sold the distillery last year to Proximo Beverage Corporation).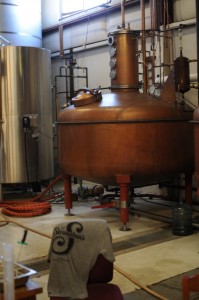 The name is perfect for the distillery, as it conjures an image of the classic American west ("I hear old man Stranahan has one of them there whiskey-making stills in his back barn…") The name is identified with an individual, but more important than that, the name is possessive, meaning it declares the whiskey is made by someone who is accountable for its quality. The name says the maker is willingly sharing it with you, the drinker. Stranahan's stays true to the Old West code that says a man is only as good as his name.
These days Stranahan's head distiller has a last name that may seem better suited for a motorcycle manufacturer, sauerkraut mogul or German intelligence agency director, but Rob Dietrich's look, demeanor and attitude is that of a modern Josey Wales. He doesn't wear the cowboy's dusty beard or ride a horse. Instead, he sports mutton chop sideburns and drives a rough and tumble 1930s Dodge truck that once purportedly belonged to John Wayne.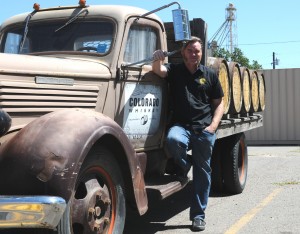 The whiskey Dietrich conceives and nurtures is a straight whiskey made with Rocky Mountain barley and Rocky Mountain water. It's a distinctively American West whiskey that is crafted in small quantities (45 barrels a week) and, for the time being, only sold in Colorado as the warehouses slowly accumulate enough spirit to consistently sell in other parts of the country.
Why then, am I writing about a whiskey that can't possibly be purchased by the majority of my readers? Stranahan's whiskey is very good, no doubt about it, with aromas of hearty fruits, deep flowers and distinct oak. The whiskey deserves, and one day will have, a wider audience. The attraction of this story, however, is not about what Stranahan's produces, but is about why the distillery produces.
Stranahan's did not arise from carefully plotted marketplace research, corporate expansion plans or tasty tipple trends. The distillery was created from the passion of those who saw a niche for their dreams in the whisky fabric. Virtually no one employed by the distillery at the beginning and through to today have had any prior distillery experience. What they do have, in the words of Dietrich, is the motivation, mentality and innovation to contribute to the Stranahan's vision. One look at the stills – a combination of pot and column stills – shows that these people want to make their product to their tastes – and they have faith other people will find those tastes appealing.
Whiskey is the most individualistic of drinks, with unique characteristics found in spirits inhabiting each cask from Colorado to Caol Ila. Stranahan's may have started out as ruggedly independent as Josey Wales himself, but it has collected plenty of followers along the way, inspired other innovators to craft distinct whiskies, and delivered on the American vision that as long as you set your gaze on your own path, you'll continue riding through to a new day with new possibilities.
---