I'm continuing my recent trend of guest reviewers as I move into three recent Glenrothes expressions. This time, my guest is Girl+Fire blogger Paulette Fontenez. Paulette is a huge whisky fan, as she frequently reminds me in her Tweets, Facebook posts and texts. Her love of the liquid is not limited to drinking it – Paulette also likes to experiment with using whisky in cooking, as evidenced by her whisky applesauce (which I was lucky enough to enjoy after this tasting). Speaking of which, here are our thoughts on the Glenrothes 1995, 1988 and 1978 releases.
1995 (bottled 2011) – 43% alcohol – $75
Color: Medium gold
Nose
Rob:  Vanilla, apples, currants, grain, orange oil polish; With water: hibiscuses, zinnia,
Paulette: Waffles, maple syrup; With water: Caramel with sea salt
Palate
Rob: Orange, all spice, orange-cranberry muffin; With water: Caramel, day-old charred wood, red cherry, shaved walnuts
Paulette: Spicy, all spice, tingles like spearmint, citrus; With water: sherry
Finish
Rob: Rolling warmth. Very nice. Hugs; With water: Not nearly as lingering. There and gone.
Paulette: Warm, metallic
Overall impressions
I liked this. I must admit that I've been disappointed by Glenrothes expressions the past 6-7 years or so. Not that they were bad, but they were just unremarkable. Drinkable, but not something I craved. They seem to have turned a corner with this expression, recapturing some of the intrigue that came with their 1991 and 1992 expressions. This pours well and drinks better.
1988 (bottled 2009) – 43% alcohol – $150
Color: Butterscotch candy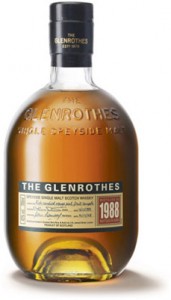 Nose
Rob:  Grapes, nicely balanced with honey, lemon cream sandwich cookie, vanilla, pineapple cake; With water: Going out in Hollywood on a Saturday night – perfume multitude osmosis, flying cocktail splashes, lounge furniture that has been well loved and, well, had lovers lounging.
Paulette: Dried fruit (raisins) apple/pear, seductive; With water: harsher, grass, went from classy to trashy, but not in a bad way
Palate
Rob: Grape Jolly Rancher, honeysuckle, white pepper; With water: That chewy orange candy grandma always keeps in a jar on the coffee table, more honey, apple, slight tarragon, after short wait licorice rushes to the front
Paulette: Toffee and mixed candy; With water: More toffee and licorice.
Finish
Rob: Glowingly warm, settles in for a chat; With water: Cloves and Tabasco. Kind of like a Bloody Mary
Paulette: Tongue coating, warm syrup/honey; With water: Licorice and Tabasco.
Overall impressions
My fellow Los Angeles-based whisky writer Tim Read says he's not found a Glenrothes that really excites him. I think this is a fine place to start. All kinds of action happening here. I think where it might suffer a touch is when you add water. Water really livens up the nose and palate, but thrashes the finish. I guess that's the beauty of whisky tasting – you have a full experience, a full journey with the liquid if you take the right route. The journey may not always be smiles and Disney songs, but it will be lively and intriguing. Both Paulette and I thought this would pair well with cream-based foods like a chicken pot pie for the main and a caramel cream dessert of some sort.
1978 (bottled 2008) – 43% alcohol – $700
Color: Copper
Nose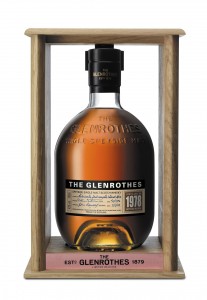 Rob:  Heather, grass, ripe fruits, baked lime bundt cake; With water: Antiseptic, apricot compote, rocky
Paulette: Sugar cane, molasses; With water: Brown butter
Palate
Rob: Christmas cake, butterscotch, kale cooked in a Sweettart reduction (Not that I've had that, but I want to try it after tasting this); With water: Chewy, more Christmas cake, but with big presents and cheerful carols, slight woodsy-ness, sherried
Paulette: Cinnamon; With water: Chewy, walnuts, fruity
Finish
Rob: Falls flat. Pond water. Earthy, vegetative; With water: Much better finish. The happy glow of a Christmas Yule log.
Paulette: Smooth, silky, soothing, rich
Overall impressions
Well, as you can see Paulette was so overwhelmed by the beauty of this dram she could hardly describe it. But, the words she chose were happy and comforting, just like this whisky. I loved it. You want to stay up with it next to the fireplace and hear scary ghost stories and tales of the glories of Christmases long, long ago.  Again, it runs into the trouble that the other expressions had: unevenness between the nose, palate and finish. In this case, the nose and palate were amazing without water, but the finish, for me, didn't do much. Add a drop of water and the nose diminishes but the palate and finish explode. Would I recommend this at $700? Yes. There are some wonderful aspects to this whisky, and though it doesn't always fire on all cylinders, if you can afford to drop $700 on a Scotch, you'll not mind the ride.
---