"I don't drink whiskey, but I love bourbon."
"I love Scotch, but I'm not a fan of whisky."
"I had this great Scotch from Canada."
All of these are things I've had people say to me when they learn I write about whisky. I patiently listen to their proclamations and then gently tell them that they're wrong. Wrong. WRONG!!!
O.K., I don't scream at them. But, I tell people there's a whole world of whisky for them to discover and understand. And, if that have that initial interest, such as enjoying bourbon, Scotch or a Canadian whisky, then they should explore more of what the wonderful world of uisge beatha has to offer. And, along the way, they'll learn that bourbon and Scotch are both whiskies, Scotch is only made in Scotland, and places as far flung as India, Tasmania and Japan make some wonderful whiskies.
My first real understanding of whisky came when I spent a weekend at a whisky expo in San Francisco. This fall, there seem to be a number of whisky events popping up around the country (and world, for that matter – I'm talking to you, London). One of the first big ones here in LA is Whisky Live, happening October 17 at the Hyatt Regency Century Plaza in Century City.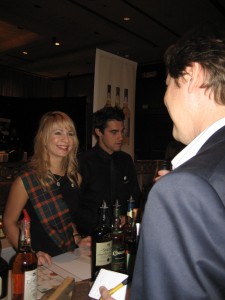 Whisky Live is a full on event with live music, a great buffet, special cigar events, and most importantly, a full  range of over 150 of the world's finest scotches, bourbons and whiskies. Events like this are important for whisky novices to have the chance to expand their palate by trying some whiskies outside of their comfort zone. They're also helpful for people who already enjoy a range of whiskies, but want to see what new expressions are available. Personally, I've tried most of the whiskies available at these events, but I look forward to chatting with the industry representatives to hear about mutual acquaintances and to catch up with old friends.
In addition, there are opportunities to attend master classes taught by industry experts. These classes provide details on particular expressions that expand the tasting and pairing experience.
Tickets to this event are $139 for VIP entrance and $109 for general admission. The code "la2012"will knock those prices down a bit. For more information, visit: http://www.whiskylive.com/usa/49/los-angeles-2012
Make sure to check out my Twitter updates from the event. Maybe I'll see you there!
---