I've never been one to go the direct route. I'm an explorer at heart. A curiosity seeker. Even as a kid, swinging on a swingset – a fairly safe and controlled motion – I always tried my best to swing sideways, to swing in a whirling twist, to flip the swingset with my powerful launching abilities (and I succeeded a few times until my dad finally wised up and cemented the legs into the ground).
Even now, I find being off-balance in life (an occasionally in mind) makes for a far more interesting swing through this world than keeping the eyes fixated straight ahead. A few months ago while in Portland I was enjoying some time at Clear Creek Distillery – a semi-planned visit. The distillery tour and chat ended, and I headed back up the road to meet my friends for dinner at the Pope House Bourbon Lounge. I had a little more than an hour to kill. As I walked past Quimby Street (yes; the Simpson's Mayor Quimby is named after the street), I noticed a little A-frame sign halfway down the block away from me. All I could make out in the fading light was the word, "Bull." What more does a boy need to change direction?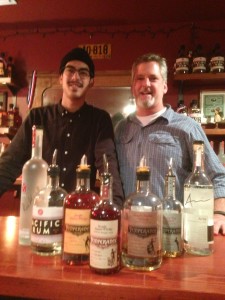 I strode toward the mystery sign until the writing was clear: Bull Run Distillery Tasting Room. An arrow pointed toward a door in a semi-industrial building. The mystery distillery tasting room had half an hour remaining until closing time, I still had time to kill, so I figured, "why not?"
The tasting room was small, but extremely inviting, with a nice wooden bar keeping an eye over a setting that seemed lumberjack-chic, i.e.; Portland-esque. There were a few items of swag, some bottles for sale and some bottles aligned for sampling, including gin, rum, vodka and yes, whiskey.
I was introduced to Patrick Bernards co-founder and "Chief Enthusiast" of Bull Run. Patrick's enthusiasm runs outside of the walls of Bull Run as a board member of the Oregon Craft Beverage Council and the American Craft Spirits Association. It's that enthusiasm which helped him launch Bull Run in 2010 with master distiller Lee Medoff, a longtime leader in the Portland distilling scene.
Templeton Rye, that all-American, all-Iowan product that draws its recipe from the Prohibition has received tons of flak for in fact being an all-American, all-Indiana product that draws its recipe from…well, it doesn't really have one; the company buys its whiskey from the industrial MGP distillery in Lawrenceburg, Indiana. Bull Run, on the other hand, has embraced the relationship with MGP, even going to far as to film a video at the distillery to fully document the whiskey's connection from Indiana to Oregon. (You can read more about Templeton via Chuck Cowdery's blog and Mark Gillespie's Whiskycast.)
Bull Run is relying on and having fun with its MGP spirit while it ages its own all-Oregon whiskey (made with Oregon ingredients, in pot stills designed in Oregon). The first local whiskey will be released in 2016. In the meantime, Patrick and crew have released some great spirits with the MGP spirit under their Temperance Trader label. They have a straight bourbon that had lovely notes of vanilla, spice and honey on the nose with a cascading whirlpool of chocolate and tropical fruit on the palate.
My favorite was a spirit that leans into the experimental – a bourbon finished in Italian style chinato casks. The herbal essences of the infused wine translate into a whiskey that has golden raisin and spice on the nose, and all kinds of "grandma is baking" flavors on the palate: cloves, cinnamon, allspice, orange peel and rhubarb. It was like a Manhattan and a pie mashed into a little tasting glass. Perfect for the fall night.
I like that Bull Run is taking its own route to craft distilling. They aren't afraid to embrace the big guns of MGP (and boldly declare the relationship) and add their own twist as they journey toward an all-Oregon product. I'm excited to swing back in 18 months or so to sample some of their self-made spirit and to see how they balance their present and their future.
---